I'm not exactly new to the desert. But there are some things you only learn when you live here. You just don't run into them when you visit. Like, for instance,
RATS WILL EAT YOUR CAR.
For the past couple weeks, I've noticed some people on the street had their car hoods up. Like, all the time, day and night. I tried to think of a logical reason for that, but I failed.
So I went on nextdoor.com and I was going to ask what's up with that? But I didn't have to because one of the first things I came across was a long thread full of people complaining about RATS EATING THEIR CARS.
Okay, technically the wiring in their cars, but really, why quibble over details.
That sounded like bad news to me, especially since we don't drive much, and Carol's car is usually parked in the driveway without moving for weeks at a time. So I figured I better open the hoods of the cars and make sure we didn't have any freeloading residents.
First I opened my hood. Since I drive somewhere every few days I expected the local rats wouldn't have bothered.
I was wrong.
There was rat shit all over my battery and parts of the engine, and the lovely aroma of rat piss was wafting gently from the front cowling where the motor and the front of the car meet.
I'd just driven the car earlier in the day for the weekly COVID grocery obstacle course, so I knew it was running fine, and I didn't see any gnawed wires, so I hosed off the engine and left the hood up. Because that's what you have to do in the desert.
Then I moved on to Carol's car.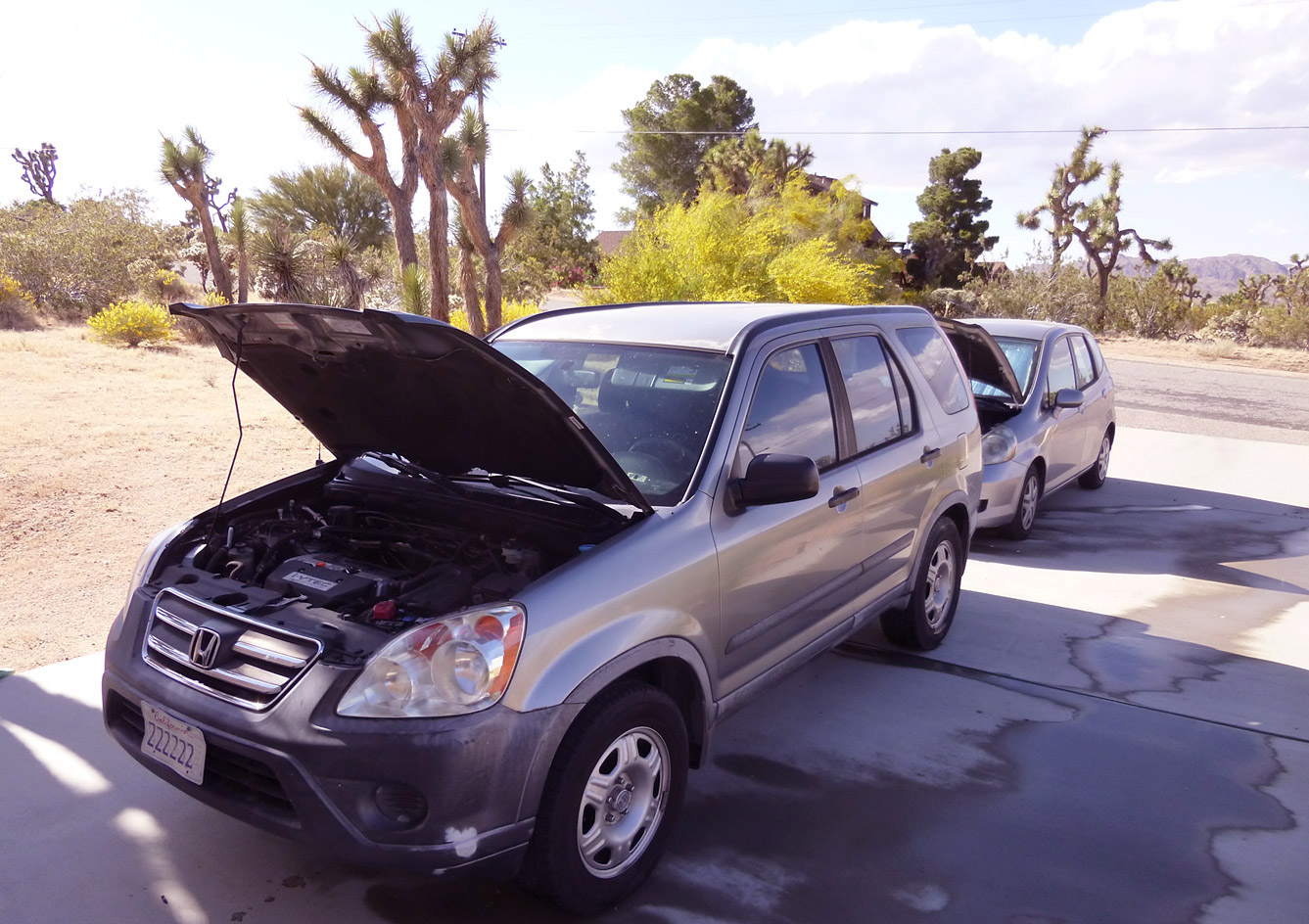 The story there was slightly worse. And by "slightly worse," I mean very, very bad.
When I opened the hood, a rat crawled out.
I should stop here and say that it looked to me very much like a sizeable mouse, but everyone on nextdoor.com says rat and Carol says rat, and the capital letters up there near the top of this say rat, so who am I to argue.
But it was a mouse.
Anyway, there was considerably more rat-mouse shit under Carol's hood. And the hood liner, well, that's where the rat-mouse was living, and it was jammed full of shit and leaves and sticks and little bits of whatever rat-mice like to line their nests with.
I started the car to make sure the rat-mice hadn't rendered it useless, but it started right up and I don't see any evidence of chewage anywhere on her wires either, so that was good, I suppose.
Hosing rat-mouse shit and piss off the cars was not quite as good. It really stinks and it doesn't want to come off, hence all the water in the picture above.
The cars are out there now, at 11:30 at night, with the hoods up. I guess the hoods just have to be up forever now. I'm not sure why that keeps the rat-mice away, but you know how it is. If everyone's doing it, it must be right.
But really, I don't think it's healthy for our motors to bake in the direct sun and desert heat all summer, so I ordered some electronic rat repellers and peppermint oil. According to the wisdom of the nextdoor.com crowd, those things help.
That remains to be seen, of course. Like everything else on Amazon, half the people who bought those things to repel rats believe with all their hearts that they're the greatest solutions ever devised by man, and the other half say they didn't work, not even a little bit.
I'll let you know.